NFC stands for Near Field Communication
The specification details of NFC can be found in ISO 18092 & 14443. The main characteristic of NFC is that it is a wireless communication interface with a working distance limited to about 10 cm. The interface can operate in several modes. The modes are distinguished whether a device creates its own RF field or whether a device retrieves the power from the RF field generated by another device. If the device generates its own field it is called an active device, otherwise it is called a passive device. Active devices usually have a power supply, passive devices usually don't (e.g. contactless Smart Card). There are several important areas for near field communications security you should know about. Each vulnerability has been addressed and resolved by Secure NFC.
These represent some of the ways in which NFC security could be compromised. Although the short range over which communications is possible reduces the possibility of any threats, it does not ensure complete NFC security, and as a result each NFC security issue must be addressed to ensure that it is not possible to breach.
Some of the major NFC security areas are listed below:
Eavesdropping
Although near field communication is a short range technology - as the name implies - this does not make it immune to security attacks. As NFC uses radio waves to communicate, and these propagate in the vicinity of the transmitter, and not just to the wanted receiver, it is possible for unwanted users to pick up the signals. The technology to receive this signals is not difficult to create. Although the range of NFC is limited to a few centimetres, it is still possible for a possible attacker to retrieve usable signals up to distances, often up to 1 metre away for passive signals, and for active mode distances of up to 10 metres may be at risk. It is difficult to prevent eavesdropping as signals need to be reliably received by the required receiver and this requires a certain signal strength. An eavesdropper does not need to receive all communications - if only a percentage are received this may be adequate. Also the attacker may use large and sophisticated antennas - often logistics of the legitimate receiver at the point-of-sale terminal, etc may restrict the antenna size and performance. This requires signals to be sufficiently strong to ensure reliable communications. The only real solution to prevent eavesdropping is to use a secure channel.
Data Corruption
This near field communications security issue is essentially a form of denial of service attack. Rather than just listening to the communications, the attacker may try to disturb the communications by sending data that may be valid, or even blocking he channel so that the legitimate data is corrupted. For this the attacker does not need to be able to decipher the valid data being sent. It is possible for NFC devices to detect this form of NFC security attack. By listening when data is transmitted they will be able to detect any attack of this form because the power required to successfully attack a system is significantly higher than that which can be detected by the NFC device transmitting the data.
Data modification
This form of NFC security issue involves the attacker aiming to arrange for the receiving device to receive data that has been manipulated in some form. This data will naturally have to be in the correct format for it to be accepted. This form of attack is possible for some bits under different coding schemes. There are a number of ways to provide protection against this form of security attack. It is impossible for an attacker to modify all the data transmitted at the 106 Baud data rate in active mode. As a result, the 106 Baud data rate, active mode would be required for data 
transfer
 in both directions. However this is the most vulnerable mode to eavesdropping. The best option is to use a secure channel as this provides the greatest level of NFC security.
Man in the-middle
This form of NFC security issue involves a two party communication being intercepted by a third party. The third party acts as a relay, but using information received and modifying it if required to enable the attacker to achieve their aims. This must obviously be achieved without the two original parties knowing that there is an interceptor between them.
NFC MAN-IN-MIDDLE ATATCK ON SECURITY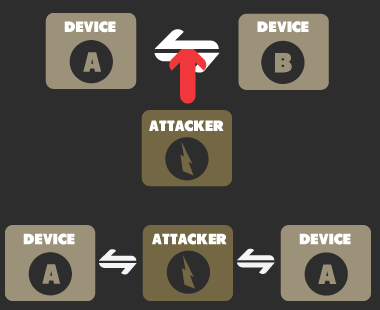 It is particularly difficult to achieve a man-in-the-middle attack on an NFC link. To completely minimise the risk, it is best to use an active-passive communication mode. In this way it would be possible to hear and detect any unwanted third party.
Case Studies & White Papers
FAQ
NFC?
Near Field Communication, more commonly referred to by its acronym of NFC, is a very short-range radio technology. It enables communication between an NFC reader and NFC tag when they are typically closer than 4cm from one another. This category page provides links to wiki topics about NFC technology and related development tools and development technology offered by Nokia. For an overview of NFC information on the wiki and this site see About NFC. A complete introduction, more details about the technology and its support by Nokia are available in theIntroduction to NFC document.
How does NFC technology work?
How does NFC technology build on existing technologies?
NFC is based on existing contactless payment and ticketing standards that are used on a daily basis by millions of people worldwide. These standards determine not only the "contactless" operating environment, such as the physical requirements of the antennas, but also the format of the data to be transferred and the data rates for that transfer.
Which standards organizations acknowledge NFC technology?
NFC standards are acknowledged by ISO/IEC (International Organization for Standardization / International Electrotechnical Commission), ETSI (European Telecommunications Standards Institute), and ECMA (European association for standardizing information and communication systems).
What ISO/IEC standards do the NFC Forum specifications support?
NFC Forum compliant devices in NFC Forum Reader/Writer mode must support the RF requirements for ISO/IEC 14443A, ISO/IEC 14443 B and FeliCa as outlined in the relevant parts in the ISO 18092.
What are the data transmission rates?
NFC data transmission is measured in Kilo Bits Per Second (kbps). The NFC standard supports varying data rates, again to ensure interoperability between existing infrastructure components. The current data rates are 106kbps, 212kbps, and 424kbps.
What is the difference between an NFC-enabled device and an NFC tag?
An NFC-enabled device can operate in reader/writer and peer-to-peer mode, and may operate in card emulation mode. An NFC tag is typically a passive device (for example, integrated in a smart poster) that stores data that can be read by an NFC-enabled device.
What is the difference between a card and a tag?
A card and a tag are technically the same, with variations in form factor. However, contactless cards used in ticketing and payment today include additional technology to store secure data.
How is NFC different from or related to other wireless/RF technologies?
Near Field Communication (NFC) is a standards-based, short-range (a few centimeters) wireless connectivity technology that enables simple and safe two-way interactions between electronic devices, allowing consumers to perform contactless transactions, access digital content, and connect electronic devices with a single touch.
Bluetooth wireless technology was designed to replace cables between cell phones, laptops, and other computing and communication devices within a 10-meter range.
Wi-Fi technology was designed and optimized for Local Area Networks (LAN); it provides an extension or replacement of wired networks for dozens of computing devices within a +100-meter range.
ZigBee wireless technology is a standard enabling control and monitoring capabilities for industrial and residential applications within a +100-meter range.
IrDA is a short range (< 1 meter), line-of-sight communication standard for exchange of data over infrared light. IrDA interfaces are frequently used in computers and mobile phones.
RFID (Radio Frequency Identification) is an automatic identification method, relying on storing and remotely retrieving data using devices called RFID tags. An RFID tag is a small object that can be attached to or incorporated into a product. RFID tags contain silicon chips to enable them to receive and respond to queries from an RFID reader/writer.
Contactless smart cards incorporate a chip (microprocessor) that communicates with a card reader through RFID technology. Examples of contactless smart card communications are ISO/IEC 14443 and FeliCa, which allow communications at distances up to 10 cm.
What are the operating modes of NFC devices?
NFC devices are unique in that they support three modes of operation: reader/writer, peer-to-peer, and card emulation. The different operating modes are based on the ISO/IEC 18092 NFC IP-1 and ISO/IEC 14443 contactless smart card standards.
In reader/writer mode, the NFC device is capable of reading NFC Forum-mandated tag types, such as a tag embedded in an NFC smart poster. The reader/writer mode on the RF interface is compliant with the ISO 14443 and FeliCa schemes.


In Peer-to-Peer mode, two NFC devices can exchange data. For example, you can share Bluetooth or WiFi link set-up parameters or you can exchange data such as virtual business cards or digital photos. Peer-to-Peer mode is standardized on the ISO/IEC 18092 standard.


In Card Emulation mode, the NFC device appears to an external reader much the same as a traditional contactless smart card. This enables contactless payments and ticketing by NFC devices without changing the existing infrastructure.
http://www.nfc-forum.org/resources/faqs#headTechnology
What about NFC and payments?
Mobile payments are booming — and the space is set to get bigger.
Silicon Valley 
titan
 Google is expected to announce a new mobile payments system at an event in New York City on Thursday. According to Bloomberg,
Google is teaming up with Sprint
, a longtime Google partner and the No. 3 
wireless
 provider in the United States after Verizon and AT&T, to roll out a mobile-payments system based on Near Field Communication, or NFC, technology.
The mobile-payments space is at an inflection point, according to Sarah Clark, editor of 
Near Field Communications World
. Clark told Wired.com by phone Wednesday that NFC could become the industry standard for mobile payments within the next year. Clearly there is massive interest in transforming, and disrupting, the existing credit card industry and point-of-sale space.
"We're operating with 1970s technology today," Clark said. "There are all of these intermediaries, kind of like a spider's web of connections until the final payment settlement goes through."
"The question everyone is asking is: 'Is it possible to economically disintermediate Visa and Mastercard from the process, and thereby bring down transactions costs," Clark said.
Here's an explainer on NFC technology.
What is NFC?
Near Field Communication technology is a short-range tool that operates on wireless frequencies similar to RFID chips and tags. It works by connecting a user's mobile device, equipped with an NFC antenna or specially programmed SIM or SD data card, to a receiver, usually a few feet away. The idea is that consumer will be able to "wave" their handsets when they're buying something at a retail location. There are technical challenges with NFC, however, including the fact that it requires an antenna and a "secure element" in order to guard consumers' purchases.
What Phones carry NFC?
Not many, at present, at least not in the United States. As of today, the most prominent mobile phone that supports NFC payments is Google's Nexus S handset, but that could change tomorrow, following Google's announcement. 
Clark is keeping a running tally of newly-NFC-compatible devices
 as they become available.
Who Are the Big Players in the Mobile-Payments Space?
Everyone from financial services companies like Visa and Mastercard, to big retail banks like Wells Fargo and Bank of America, to tech giants like Apple and Google and PayPal, to 
startups like Square
.  Bloomberg reported last month that 
Google plans to begin testing its own mobile-payments system
. Google will 
install
 thousands of special cash-register systems from VeriFone Systems, which uses NFC, at merchant locations in New York and San Francisco, the news service said. Clark said that NFC technology could help Google on its quest to dominate mobile advertising.
As for Apple, 
Cult of Mac's Leander Kahney reported
 last November that the Cupertino, California, tech juggernaut is experimenting with NFC technology on its 
iPhone
 line of smartphone devices.
Other big players jockeying for position in the space include 
ISIS
, an initiative being spearheaded by AT&T, Verizon, T-Mobile (which AT&T is in the process of acquiring) and Discover Financial Services, which sells the Discover credit card. In 2009, financial services giant 
American Express purchased Revolution Money
, a 
company backed by former AOL executive Steve Case
, for $300 million.
Twitter co-founder 
Jack Dorsey unveiled Square Register
 this week. It will allow merchants to manage inventory and run analytics against their sales — without expensive equipment and high fees. Financial services giant 
Visa announced plans last week for a digital wallet
 based on NFC. The Square launch follows news that PayPal bought mobile-payments startup called Fig Card. 
Seattle-based coffee giant Starbucks
 announced in January that its mobile phone 
application
 is now accepted in all 6,800 of the company's retail locations.
Toronto's Research In Motion, which makes the BlackBerry line of devices, is expected to announce two new, NFC-equipped versions of the BlackBerry Bold in the near-future, Clark said. The Nokia Astound smartphone, provided by T-Mobile, (aka Nokia C7) will be NFC-compatible as well, 
Clark reported Monday
.
Will the Apple iPhone 5 Have NFC Technology?
Unclear at this time. Apple is definitely working in the platform, according to Clark, and has filed several patent 
applications
 involving the technology, leading some to speculate that NFC will be included in the upcoming iPhone 5. However, Bernstein Research analyst Toni Sacconaghi recently cast some doubt on that idea, in part because the NFC infrastructure rollout remains so nascent.
"There are lots of people outside Apple who have opinions about whether the iPhone 5 will have NFC, but nobody knows for sure," Clark said. "We know they're working on it, but they might have felt like there were still some things to be sorted out. With Google's announcement, Apple may decide that they need to go ahead."
Is Anything Like This Already in Common Use?
Proximity cards are based on the same concept, but slightly different technology. The most common application is the company-issued card that gives you access to buildings and specific rooms. Less common are 
dongles and tags, like those from Visa
, and the 
Mobile Speedpass
, which allow cashless point-of-sale transactions. This approach hasn't gained much traction: It's just another thing to carry. But build it into something you always carry — a phone — and tie it to any number of credit and debit lines, and then you have something.
http://www.wired.com/business/2011/05/wired-nfc-faq/
Tell me more about NFC
NFC is the acronym for Near Field Communication, which is a short-range wireless communication technology that enables the exchange of data between devices.
How does NFC work for the ez-link purse?
NFC leverages on the existing ez-link contactless infrastructure that is already in use for retail payment. When enhanced onto a mobile handset, it allows customers to enjoy the added convenience of having an ez-link purse on the customer's mobile handset.
To make a payment with the mobile handset, an ez-link customer simply has to tap his/her NFC-enabled mobile phone at eligible contactless ez-link payment readers.
Why is NFC useful to me?
As the ez-link purse will already be in your NFC mobile handset, it means that you do not need to carry an ez-link card around anymore. Besides using the ez-link purse in the NFC phone for payment on existing acceptance points, you can also 
check
 the card details and transaction history of your ez-link card from your phone. In the near future, there will be value-added services like e-tickets and e-coupons that can be downloaded to your NFC mobile phone via over-the-air at your convenience.
What will NFC allow me to do?
Your NFC-enabled phone will enable you to carry out cashless transactions at retail outlets simply by tapping your phone at these retail merchants. You can also check the card details, purse balance and transaction history of your card using the EZ-Link Mobile 
Application
, on your NFC-enabled phone.
Where is the ez-link purse stored in the NFC device?
The ez-link purse is stored in a secured element, typically the NFC-enabled SIM card.
So if you switch to another NFC mobile phone, you have to use the existing SIM card with the ez-link purse in order to 
continue
 using the ez-link feature.
If you change to a new SIM card, please note that the ez-link purse in the old NFC SIM card will not be transferred to the new SIM card. It will be a new ez-link purse.
You may wish to use up the remaining value on the ez-link purse in the old NFC SIM before disposing it. Alternatively, you may seek a cash-back service on the old NFC SIM (refer to the FAQ in the related sections).
Why is EZ-Link being used in NFC?
NFC refers to the technology behind the mode of payment.
As the ez-link purse is stored typically in a NFC-enabled SIM card residing in the NFC device, it means that once you have an NFC device with the NFC ez-link purse, you can make transactions at EZ-Link readers . *However, the ez-link purse for NFC cannot be accepted for payments on public transportation such as buses and trains, ERP and EPS until a later date.*
http://www.ezlinknfc.com/introduction-to-nfc/
What about NFC tags?
What are NFC Tags?
NFC tags have a memory chip and an RF antenna that allow them to share information with other NFC
enabled
 devices e.g. a mobile phone. The memory on a NFC tag typically ranges from 64bytes to 4Kbytes. The speed of transfer with NFC is about 424kbit/s.
What's the difference between MifareUltralight C and Classic tags that you sell?
All tags that are NFC enabled fall into four platform categories defined by the NFC Forum. These categories include - Type 1, Type 2, Type 3, Type 4 tags. MifareUltralight C tags fall under the Type 2 category which supports chips with 144bytes of usable memory. Mifare Classic Tags are based on a specification by NXP and support 1K memory chips.
Do you know which phones support NFC?
At the current moment, some widely available NFC phones are listed below:
Samsung:
 Galaxy Nexus S, Galaxy Nexus, Wave 578, Tocco Quick Tap, Galaxy SII (in select countries), Galaxy SIII
Nokia:
 Nokia C7, Nokia N9, Nokia 700, Nokia 701
Blackberry
: Bold 9900, Bold 9930, Bold 9790, Curve 9380*
LG
: Viper, Optimus Elite, Optimus L5, Optimus L7, Optimus LTE, Optimus Vu
HTC
: Ruby / Amaze 4G, One X
Sony
: Xperia S, Xperia P
We recommend checking the manufacturer's specification in your country. Some manufacturers might disable NFC in your country.
*Blackberry OS v7.0 does not support Mifare Classic tags
http://www.taggito.com/pages/faqs
Some outstanding points:
-  Please create 3 separate Sales or order confirmation page for each product (1 NFC CardLock App Single Card; 2 NFC CardLock App Multi Card, 3 NFC CardLock App Free Trial ) *This is whereGoogle's Java script will be placed to track traffic.
-  Put anything you can think of (relevant keywords & phrases etc…)throughout the web site code to max SEO and quality ranking
-  Social media – I'm using SM to do market research in order to write better ads (with opt in for FB & other details) You guys said you would whip up a Facebook and Twitter Page for the company that keeps in line with the branding guidelines.
Can you please do that when you can?
-  I'll need those 'banner ads' and 'display ads' done up (3 each) – We can do this last, after the Main and Product sites are all done (fingers crossed by next week).
Lastly, In Case Studies on P22, please add these 2 articles:
The future of payments – The NFC Australian Landscape (Optus Business)
https://1.optusbusiness.com.au/_public/download/vg12-day-3-part-2-vision_future-of-payments-rwv2.pdf
EFTPOS pans NFC trials, outs own plans – ZD Net 11/7/11